IN YOUR BUSINESS, MANY OPPORTUNITIES EXIST
CHEMARK CAN UNCOVER THE BEST VALUE OPTION FOR YOU
CHEMARK Enterprise Transformation Practice 
The CHEMARK Enterprise Transformation Practice is designed to be holistic in its approach to assisting in Enterprise success.  Our Practice ranges from fine-tuning currently successful enterprises to a broad more far-reaching essential alignment employing proven, proprietary methodologies in the process.  Our methodologies are uniquely designed to accomplish significant results in a shorter time frame than other systems.  They include Corporate Governance; Strategic Planning; Operational Planning; Organizational Alignment; Human Resource Alignment and Leadership Development Programs.  The following details the CHEMARK offered Products, their Benefits and a Description of the process.  We always start by understanding our clients' goals through our Executive Assessment program.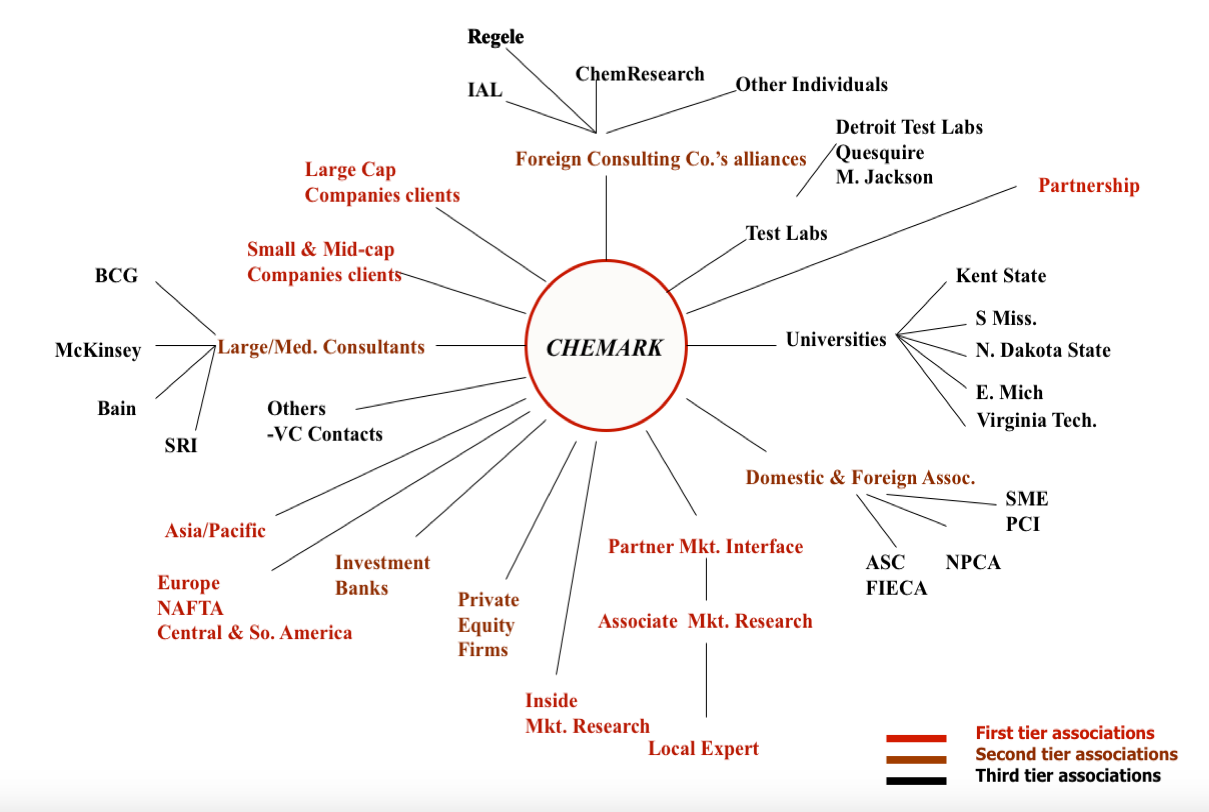 Executive's Assessment
A clear understanding of how you view your current situation with recommendations for going forward.  Ensures attacking the right problems in the right order.
In a low stress, private conversation, you respond to open-ended, customized questions.  We will:
Capture and sort your answers
Shine a light on some of the uncomfortable areas
Share our experiences and stories with similar issues
Provide a written recommendation and discuss options with you
Corporate Governance
Improve results by adapting the governance model of the most successful companies to your unique business / culture.
We will guide you through implementing five, interwoven activities that will keep you on top of all critical items throughout your business.  Once in place, you and your staff will have better control of your future and more time for working ON your business.
Succession Planning
Ensure the business survives the loss of a key individual.
Ensure business continuation by crafting an individualized transition plan for the CEO or other senior executive.  Focuses on meeting the requirements of the business and the individual involved.
Strategic Planning
Develop actionable plans that your company can implement instead of a book of (good) ideas that rests on the shelf, gathering dust.
Define the steps to achieve your goals by:
Using the knowledge of your organization to identify and prioritize alternatives
Developing consensus on the chosen approach(es)
Establishing doable action plans.
Operational Planning
Implement major initiatives with higher quality and financial results.
Best practice models bring the expertise of literally dozens of experts to help you with initiatives in:
Full business plan development (suitable for raising capital)
New product concept assessment
New product introduction
Sales strategy
Pricing strategy
With our guidance for moving forward; step by step.
Organizational Alignment
Identification of the most critical areas for improvement with a plan for implementation.
Over 90% of change management efforts FAIL. OUR SUCCESS RATE IS 100% using this methodology.
Combine best practice models, insightful analysis, superior meeting facilitation, your knowledge of your business / industry, and our broad experience to get started improving your business results in less than 6 weeks.
Best practice areas include:
Board Governance
Board Business Direction: with or without the CEO
CEO and Executive Staff, Executive Staff without the CEO
Employee Perceptions
Customer Satisfaction
Value Chain or Supply Chain Alignment.
Human Resource Alignment
Raise the quality of your human assets and watch your business prosper.
Results:
Better fit for requirements
Lower turnover
Proven development plans
Identification and development of high-potentials.
Assessment and support of candidates for key positions and succession planning:
Leadership Potential
Leadership Challenges
Values
Decision-Making Maturity.
Leadership Alignment Assessment (360° Analysis):
Operationally oriented (vs. traditional behavioral approach)
Includes Mentoring Program.
NOTE: Assessments should not be used as the sole criteria for any action. Management judgment, interviews and other traditional processes should be employed as well.
Mentoring Programs
Accelerate careers and grow leadership potential.
Every graduate has had a significant promotion or been considered for one,
There are three Mentoring Programs, each with different features and price points:
Wizard
Apprentice
Initiate.
Every Program has three phases:
Personal Discovery
Foundation Setting

Miller Leadership Model™
Miller Leadership Toolbox™.
Leadership Development Program
Raise the leadership skills of your entire management team (supervisor through executives) in just 12 months.
Results:
Better and faster decision-making (everyone speaks the same language)
Individual improvement based on their current skills level
Exposure (and then facility) with multiple leadership and business models.
The program includes:
Personal Discovery (from the Mentoring Program).
Foundation Setting (from the Mentoring Program).
Three workshops spread out over nine months, covering the following broad topics:
Leadership
Strategy
Management.
Plus, customized, individual improvement plans.
Hybrids
Get the support you need, when you need it, in the way most useful to you.
Programs fully customized for your situation.