Dan Watson & Gary Shawhan, Contributing Editors
The CHEMARK Consulting Group
Although current conditions looks a bit bleak, China and most other major industrialized countries in Asia/Pacific feel that 2021 will be a year of recovery and the beginning of a strong and sustainable period of growth. However, this can only happen if containment measures work and with substantial government policies that provide economic stimulus to assist real growth are implemented.
 The A/P region is going through different stages of impact and recovery from the pandemic depending on the country. China's economy appears to be getting back to work. Other economies are imposing tighter lockdowns. Some are experiencing a second wave of virus infections.
As the health and human toll grows, the economic damage is evident. Overall, most experts feel that the global economic contraction will be about 5% for 2020. This contraction will both limit and slow economic recovery throughout the Asia/Pacific region. The questions then become what about 2021? What will happen across the Asia Pacific region? Most important, what will happen in China? The simple answer to this question is "no one knows".
There are numerous things that need to be addressed across the region.  For emerging markets and for developing countries (forecasted to contract by 2.5 percent), there are huge obstacles. These include:  Strengthening their public health systems; Addressing the challenges posed by diversity of culture, religion, language; and Implementing reforms that will support strong and sustainable growth once the health crisis abates.
These tasks are much easier to articulate than to initiate and execute as many of the region's countries are still engaged in a day-to-day struggle fighting the ravages of COVID 19.
Economist believe that the advanced economies within the region are likely to shrink ~7 percent in 2020. The impact of this decline will spill over to the outlook for emerging markets and developing economies as they cope with their own domestic outbreaks of the virus. Some economic projections have East Asia and the Pacific growing at a scant 0.5% rate while projecting the Southern Asia economies to contract by 2.7%. This would represent the weakest showing by this group of economies in at least sixty years.
Adding to the economic contraction, foreign direct investments (FDI) in the region could contract by 40% this year, hitting emerging and developing countries hardest.
COVID 19 has dramatically impacted globalization, with flows of foreign direct investments (FDI) being disrupted as a result
According to the UN Conference on Trade and Development (UNCTAD), global FDI flows are expected to contract between 30 to 40% during 2020/21
If the contraction in global FDI lasts for a while, the consequences for  the entire A/P region will be significant and for developing countries severe
COVID-19 is uprooting economic globalization. With both supply and demand experiencing simultaneous shocks due to containment measures, global production networks are being disrupted on a scale never witnessed before. The pandemic has exposed how globally interconnected the flow of goods and services has become. Countries are now re-thinking their international trade strategies to reduce their vulnerability to global economic shocks.
2021 will undoubtably become a recovery year for the entire planet. Some countries have the expertise, resources and will to abate the future impact of the virus. This is an optimistic hope as the virus remains with us and, as we have seen in India, it is still highly active.
We have been through wars, terrorist attacks, inflation, stagflation, deflation, SARS, EBOLA, and the list goes on. Through it all, people across the globe suffered. As a society, we always pulled through. This time should not be different. Remember, in troubling times there is opportunity.
A Profile of the Asia Pacific Region
The Asia Pacific region is populated by approximately 4.7 billion people spread out over about 50 countries. The region is immense covering over 2.8 billion hectares of land area or approximately 22 percent of the worlds land mass. The key regional players include one key global giant, China, along with four additional major global players: Japan; Taiwan; S. Korea; and India.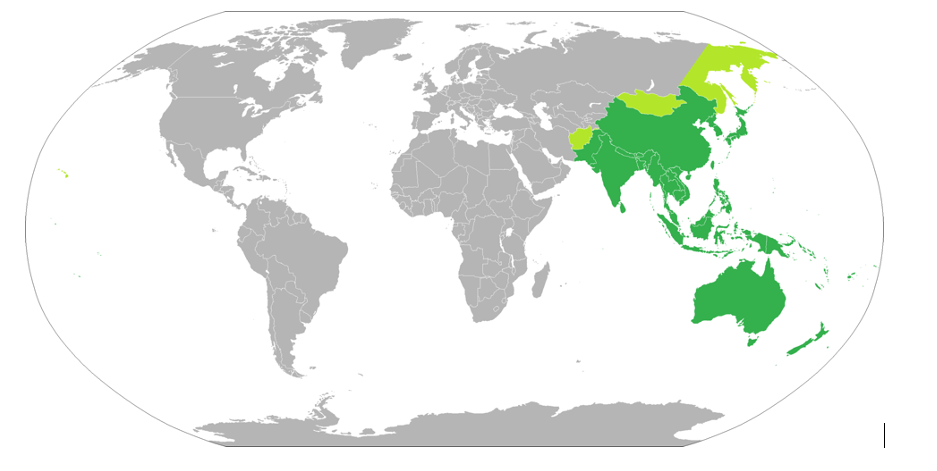 Figure 1: Asia/Pacific Region (denoted in Green)
The Asia/Pacific region (A/P) is highly diverse. It contains several first world countries including Japan and Australia. It includes a range of heavily populated, over-crowded countries of which the most prominent is China. Others are low-to-middle income countries that are experiencing tremendous economic challenges with limited healthcare resources for maintaining everyday well-being. Many of these countries have had prosperous economies up until COVID 19.
The COVID-19 pandemic has unmasked the health resource inequities and lack of preparedness to handle a coordinated response in many countries across the region. This is especially true for the many smaller A/P countries with a more fragile infrastructure.
COVID-19 – Impact on the Asia/Pacific Economy
The health and human impact of the COVID 19 virus across the entire Asia/Pacific region has been horrendous. The virus has affected every part of society (schools, government offices, businesses, tourism, manufacturing, sales, etc.). For smaller economies that are less economically resilient, the virus has had a major impact on their economic structure and has essentially transitioned some of them into a recessionary state.
For most of Asia, the COVID 19 virus has created an economic crisis like no other that has previously hit the region. As an example, its impact on the regional economy is far worse than the Global Financial Crisis of 2009. This time around, Asia is not immune from the impact.
As we approach the fourth quarter of 2020, it is fairly apparent that this will not be a year of good growth for the region. Looking forward to 2021 there is fear that the impact of the coronavirus will continue to varying degrees across the AP region. Its impact on the region's economy, in fact, could be fairly severe and place the region into uncharted economic waters.
Growth in Asia/Pacific is expected to level out at near zero percent in 2020 according the various economic reports. If this pessimistic projection comes true, then 2020 will be the worst regional growth performance in over a half century. This includes the Global Financial Crisis of 2009 (4.7 percent) and the Asian Financial Crisis of 1998 (1.3 percent) as shown in Figure 2.
Although there is a lot of gloom and doom being forecasted, it is important to point out that Asia/Pacific is expected to fare better than many other global regions in terms of overall economic activity. To support this point, Figure 2 also illustrates how the A/P region has rebounded from economic crisis in the past.  Many economists feel that this will happen again in 2021.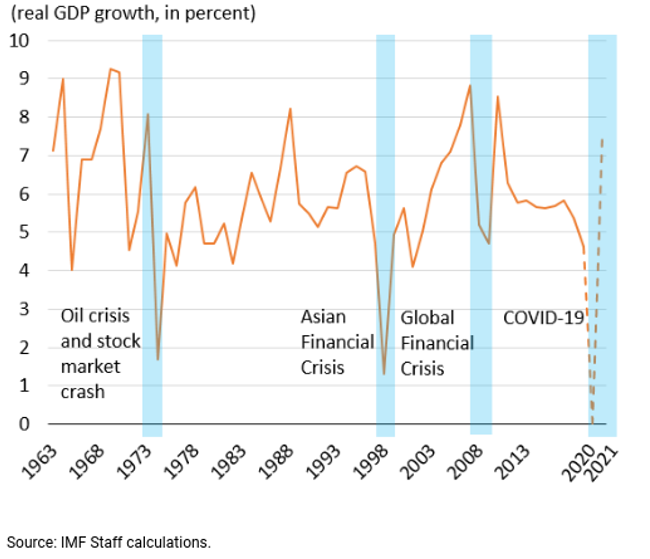 Figure 2: Projected Regional Impact from the COVID-19 Virus
All Asia/Pacific countries are revising their growth estimates for 2021 onward.  As you might expect, their downward revisions are fairly substantial. For instance, a 3.5 percentage point reduction in GDP is projected in Korea. This estimate is made with the knowledge that the country appears to have managed to slow the spread of the coronavirus. Korea has also minimized prolonged production shutdowns seen in other countries impacting the supply chain for both parts and materials. This puts them in a favorable position with their trading partners going forward.
In the case of Australia, Thailand and New Zealand projections are for a reduction in GDP of over 9 percentage points. This drop is mostly due to the hit each country has taken as a result of the global tourism slowdown. In the case of Australia, it is also impacted by lower commodity prices for their goods and services.
Within the Asia/Pacific region, the Pacific island countries are among the most vulnerable due to the limited fiscal space (small land mass), as well as a comparatively underdeveloped healthcare infrastructure.
There is an economic inter-dependence that exists within the Asia Pacific region that is linked in many different ways to China and the health of the Chinese economy. Looking beyond the AP region, the severity of the impact  of COVID 19 on this region along with the ability of the region to recovery in the near term will have downstream consequences for all other global economies in some way.
If we look at representative East Asia countries within the Asia/Pacific region we begin to see the huge differences in economic strength among various countries in the region. Figure 3 depicts the GDP growth for 2019, a baseline for 2020 and a worst case scenario for 2020. As can be seen each country has expectations for a serious contraction in growth as compared to 2019.
.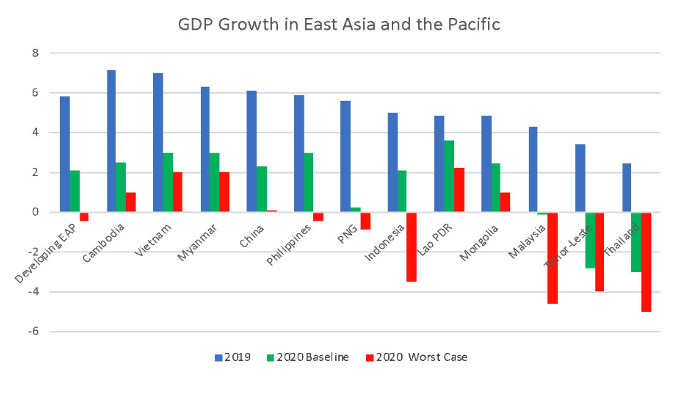 Figure 3 – GDP Growth in East Asia
The Situation in China — A Pivotal Factor
The health of the Chinese economy generally reflects on the overall health of the region. China claims that in the second quarter its economy grew by 3.2%. While this number has been disputed by numerous economic experts, it is true that China is moving forward with a recovery plan.
China's ability to execute a successful recovery plan is dependent, in part, on the economic health of its trading partners. The 1st quarter contraction of the Chinese economy was decimating to the country's pre-virus GDP growth expectation for 2020 of over 6%.
The total global economy is forecasted to contract by as much as 3% or 4%  in 2020. This is not good news for the region as Asia/Pacific's key trading partners' economies are expected to contract sharply as a result of COVID 19. (i.e., the United States by 6% and Europe by 6.6%).
Inside the region, China's GDP is projected to decline from 6.1% in 2019 to only 1.2% in 2020 according to IMF estimates.  This is actually considered to be optimistic by some analysts.  Looking back in time, this projection differs sharply with China's growth performance during the 2009 Global Financial Crisis, which changed little with an actual GDP of 9.4 percent. The important difference here was the fiscal stimulus infusion by the Chinese government of about 8 percent of GDP. We cannot expect that magnitude of stimulus from China this time around.
Feeding the decline in GDP growth for China are the following:
Industrial production dropped 8.4% in the first quarter and marked a 1.1% decline in China's GDP for March
Fixed-asset investment fell 16.1% in the first quarter 
Retail sales fell 19% in the first quarter
Sales of consumer goods fell 15.8% in March, while online sales of physical goods rose 5.9%
The Chinese government has indicated that it will not set a GDP projection for 2020. China feels that their economy is on the road to full recovery. Obviously, China must also feel that its trading partners will also enjoy a quick recovery from the impact of the COVID 19 virus.
Figure 4 provides a graphic snapshot of the top 25 trading partners of China in terms of export sales for 2019 and showing the variance in percent GDP as compared to 2018. As shown In Figures 4 & Table 1, the United States is by far the largest importer of Chinese goods.
What appears to be clear is that China is doing all it can to recover from the impact of the virus. However, without an equal recovery by their major trading partners China will not make much headway. In particular, the importance of the United States to China in maintaining a health export market is critical to both short and longer-term economic projections.
Your content goes here. Edit or remove this text inline or in the module Content settings. You can also style every aspect of this content in the module Design settings and even apply custom CSS to this text in the module Advanced settings.
Figure 4: China Exports by Top 25 Importing Countires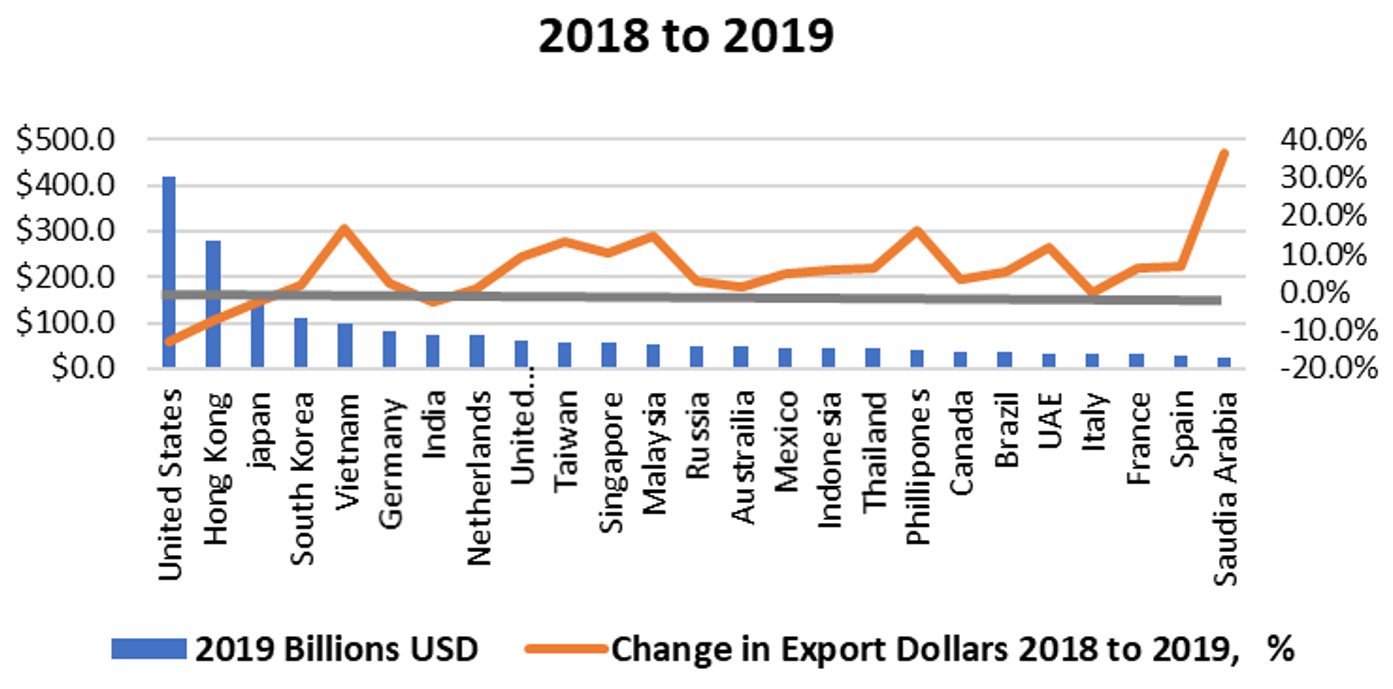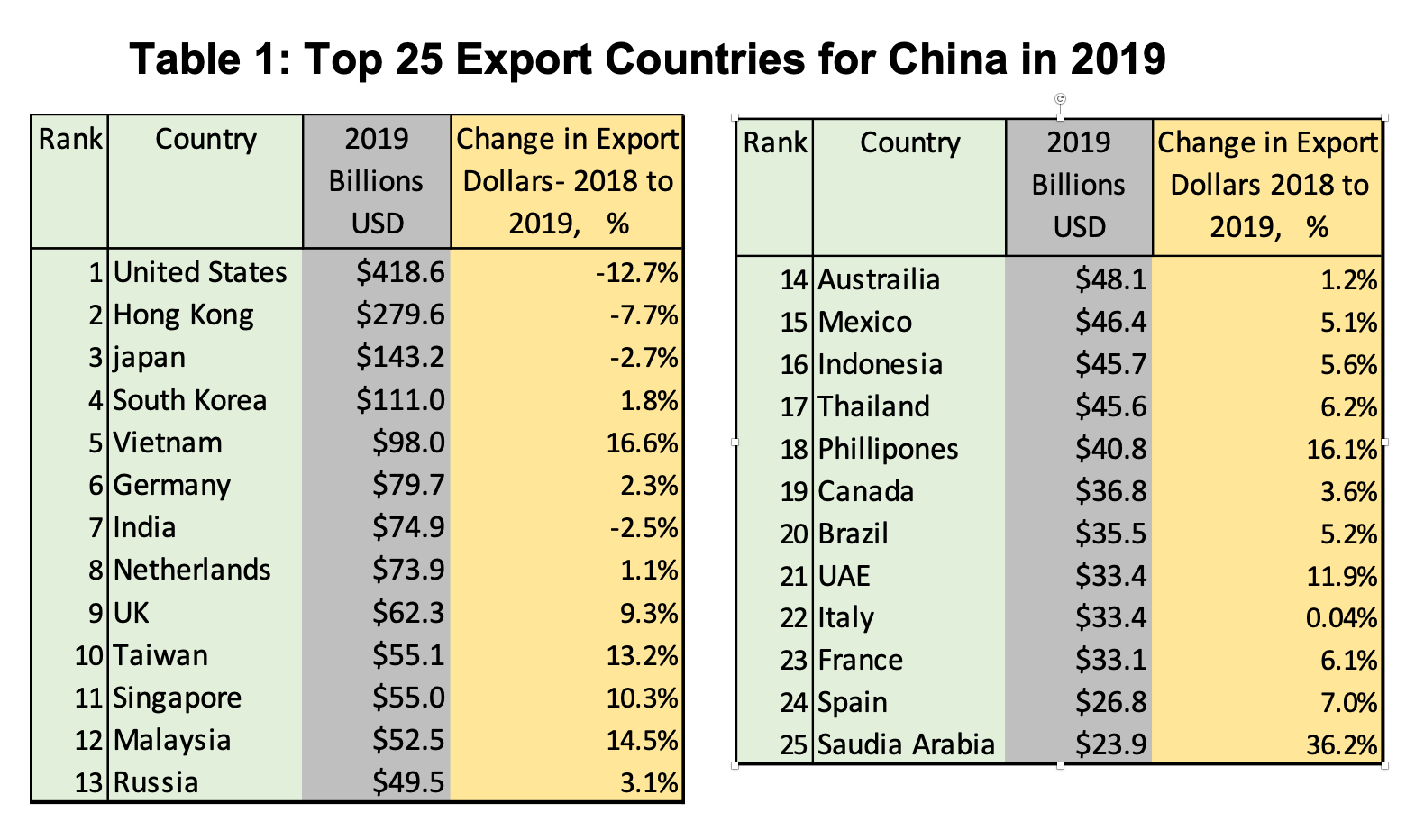 Table 2: Keys to China' Recovery
The collective economic recovery from these top 15 countries will play a significant role in determining the real recovery of the Chinese economy
The balance of the Asia Pacific countries, especially the smaller countries struggling to deal with COVID 19, presents an added problem for China

Collectively these smaller countries are linked to Mainland China' overall economic health through various business arrangements often controlled by the Chinese government

Economic failure of many of these smaller countries will likely impact the economy of the entire Asia Pacific region including China
The movement by certain trading partners to decrease imports from China is another potential kink in the Chinese economic recovery plan.

Governments have growing concerns about the increasing trade deficit between themselves and China and are pushing back

Inequities in trade policies and tariffs have received increased attention in recent years especially between the US and China
COVD 19 has created supply-chain disruptions of critical parts and components for key offshore markets such as automotive. This issue is fueling consideration of re-shoring some manufacturing by major industrialized countries
Overall, China and the United States must solve their ongoing soured trade relationship. This means China will have to step back from its sabre rattling with Taiwan and lower its aggressive military posture in the Asia/Pacific region. Doing so would go a long way in addressing the human and economic toll from the COVID 19 virus. In summary the following points reflect the economic situation and outlook today in China.
China's recovery path is at best not clear. There is a difference in what is being reported by the government and what has been independently reported by non-government sources
China's importance in determining the future financial and business health of the entire AP region cannot be understated
China' reliance on a strong and vibrant export market for their products is fundamental to their financial well-being. Without it, the likelihood of a domino effect across the rest of the Asia Pacific region is high