Gary Shawhan, Contributing Editor
The CHEMARK Consulting Group
A key component of a company's market success is the strength of its sales force. Staffing and retaining the right salespeople in today's business environment is a challenge that requires on-going attention and monitoring by management. This includes assessment of individual sales performance based on relevant metrics. It also requires a periodic review and appraisal of the capabilities and motivators that determine the effectiveness of each individual salesperson. The implementation of a compensation plan that maximizes sales results and supports growth of the business is fundamental to this process.
Formulating and implementing an effective sales compensation plan is both a challenge and an adventure. The individuality of companies influences the profile for individual sales hires by the management team. The way sales compensation plans are structured, implemented and managed needs to take into account the match that exists between the company's  products and services and the talent that exists among the members of their sales force.
The hiring process involves consideration of a number of items important to establishing and maintaining a quality sales effort. Among these are individuals that are knowledgeable and technically capable of understanding and representing the company's products and/or services. Degreed individuals are a common expectation but industry experience along with business relationships with existing or potential customers add significant value when bringing new salesperson's on board.
Today, sales compensation plans for medium to larger-sized companies (engaged in the coatings/specialty chemical market spaces) are primarily based on a salary plus bonus incentive structure. While there is no set standard that represents an industry guideline, the trend today is to set an attractive base salary that represents the major portion of the salespersons overall compensation. 
It would be reasonable to suggest that a common ratio of salary to bonus/incentive today follows an approximate 80% salary to 20% bonus relationship plus or minus 10%. The actual ratio of salary to bonus/incentive and the structure of the incentive piece is best determined by the  individual nature and characteristics of the business. This approach normally includes options to raise base salary for top performance who continue to bring new business into the company.
Among the key considerations that impact compensation structure for sales personnel are the following:
Table1: Considerations in Structuring Sales Compensation Plans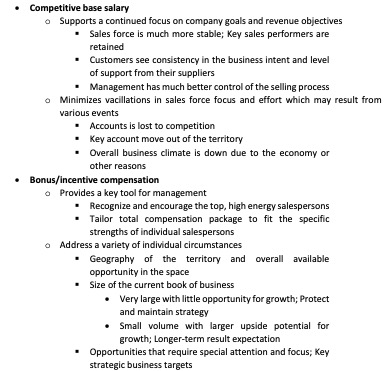 Challenges and Realities in Maintaining a High-Performance Sales Force
 Hiring and retaining high-performance talent in your sales force is a bigger challenge today than ever before. Structuring and managing a sales compensation plan is an important element in this process but far from the only issue facing sales management today.
 As companies have continued to grow through acquisitions and mergers, the complexity of the combined organizations has multiplied. In terms of the sales forces involved, the inherited variations in existing compensation plans is often difficult if not impossible to rationalize into a single plan without some pain and suffering. Businesses (especially smaller-sized businesses) that have provided their sales force with a compensation plan that are heavily weighted to incentives versus base salary and are now faced with being integrated into a larger organization is an example of this circumstance.
 What does become extremely important to an organization faced with this situation is managing the transition in such a way that they retain the sales talent present in these new additions to their company. This is a critical issue as the sales force brings with it business and personal relationships at key accounts that underpin the strength of the company they are acquiring.
 When changing sales compensation plans, for whatever reason, it is important that the revisions are such that they do not result in a pattern of frequent, year-to-year, change. One thing that drives quality salespeople to leave their current employer is constant tinkering and manipulation of their compensation plan.
 The impact of losing key elements of the sales force, especially during a transition period, often has a lasting (negative) impact on the how the company is viewed in the market. This impact is not restricted to customers. It frequently extends to other parts of the supply chain and is reflected in damage to a company's long-term reputation.
 Two key spheres of supply chain impact resulting from organization change are highlighted In Figure 1. The additive suppliers and resin suppliers (Sphere 1 Scenario) sell forward in the supply chain through distribution or sell direct to coating formulators. This relationship is highlighted in red in Figure 1. Formulators sell forward in the supply chain to the applicators, tier 1&2 suppliers or further forward to the OEM. This is  illustrated in Figure 1 as a Sphere 2 Scenario and highlighted in blue.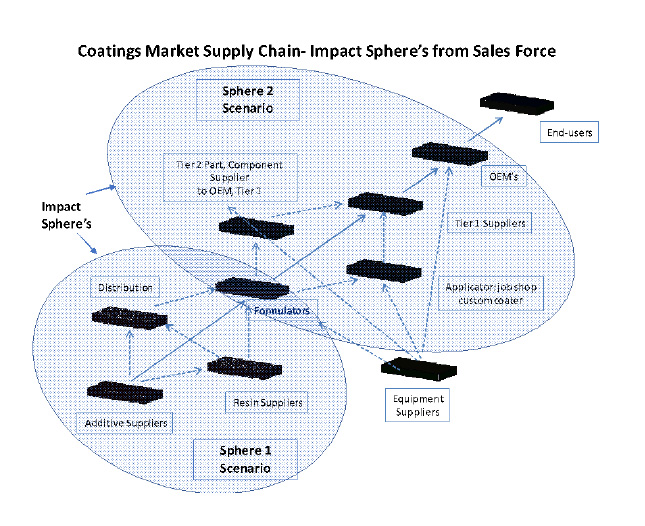 Figure 1: Representative Graphic of the Coatings Market Supply Chain
It is important to take into account the risks and potential impact on the business across adjacent and interconnected elements of the supply chain. Additive suppliers and resin manufacturers who find themselves with disruptions in their sales force, especially with their top people, risk loss of key relationships with their distribution network. Today, distribution channels have steadily increased their importance as a compliment to direct sales.
The fluidity of distributors to shift preferences for their principle suppliers is a reality in today's market. While not the only reason that such events occur, significant changes in sales personnel,  the quality of support for their selling efforts and promptness of the responsiveness to customer needs are among the most important.
Direct sales by resin manufacturers and additive suppliers to formulators are typically linked to the personal relationships these customers have with key supplier salespeople. Frequently direct sales efforts are normally linked to the larger volume customers who are very strategic to the company's overall business plan. In this scenario, as with sales through distribution, the value of the relationships that are in place through the sales force are important to maintaining strong, long-term customer relations.
In the supply chain, coating formulators sell to applicators, sell direct to OEM's or to tier 1 and tier 2 manufacturers. They rely on key relationships that they have established with their customers to protect their business position. Retaining motivated salespersons that are integral to these account relationships is extremely important. Loss of these individuals either to competition or to a career change can erase or negatively impact  the trust and goodwill establish through long-term relationships with their supplier's sales representative.
In either scenario, additive/resin supplier or formulator, a significant consequence of losing top performing salespeople is the increasing difficulty in finding and hiring replacements that have adequate experience and talent to do the job.
One of the most difficult tasks associated with new hires is dealing with the impact that non-compete agreements have on this process. Salespersons, working for competitors or in the same field of business, are often prevented from actively selling into the same market space if they leave their current employers.  These restrictions can be based on the field of business covered by current sales activities, by specific accounts represented by their past activities or other criteria set forth in a separation agreement
New hires today are often required to agree to a non-compete stipulation as a condition of employment. If they are let go from their current employer, these individuals may not be employable by other company's serving the same markets and accounts where they have strong, established relationships.
The bottom line is that finding quality replacements for key salespeople in today's marketplace is increasingly difficult. Too frequently, the best candidates are not able to transition into a new position within their area of expertise.
In addition, larger companies and corporations have a human resource department. The need and benefits from the various functions and services provided by human resources are many.  With regard to the sales force and sales compensation, it is important that efforts to standardized compensation plans and performance assessment does not override the importance of providing compensation plans that are designed to recognize and reward key individuals.
The goal of an effective compensation plan should be to make sure that your salespeople have a sufficient base salary "to keep them in the game" of effective selling. The plan should avoid ups-and-downs in effort resulting from vacillations in market conditions or an unexpected loss of a key account. It should make salespeople feel they are partners with the company in growing their business. Your high performers should be confident that by putting forth the extra effort that they will rewarded for it. This includes considerations for further advancement in base pay as well as through incentive compensation.