By Gary Shawhan, Keith Jacques, The CHEMARK Consulting Group
The wood coatings market continues to evolve on several fronts. Depending on where and how your company is positioned along the supply chain your view of this market can vary significantly. In general, there continue to be opportunities in the wood coatings market for companies that are able to successfully innovate and advance the state-of-the-art in coating formulation, technology families, and manufacturing processes which support these advancements.
In 2019, CHEMARK estimates the overall global market for wood coatings to be $10.2 billion USD with a projected average worldwide growth rate (pre-Covid 19) of 3.4%. over the next 5 years. The market situation in 2020, considering the impact of the pandemic, has definitely clouded the picture on growth expectations for many markets including wood coatings at least for the short to medium term.
For Europe, the wood coatings market has slowed as the market has achieve some level of saturation. The projected overall 5-year growth rate for wood coatings across the EMEA regions is 2% pre-Covid 19. While it is unrealistic to predict when market conditions will return to normal, one bright spot has been the DIY market segment which has gained further momentum as a result of the pandemic.
CHEMARK segregates the global wood coatings market into two major segments: Wood finishes and Flat stock/MDF. Figure 1 shows the estimated global split between the wood finishes and flat stock/MDF markets. For the EMEA region alone, we estimate the segment split as flat stock/MDF at 61% and wood finishes at 39%.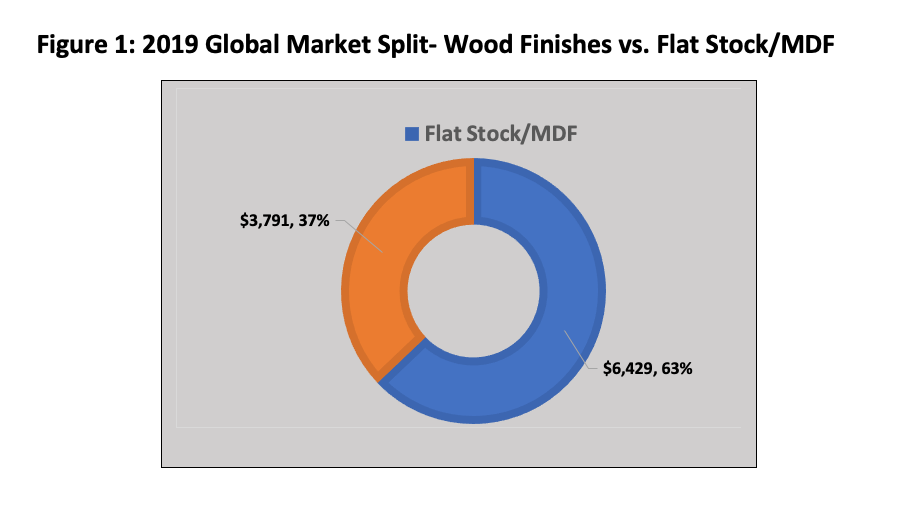 Figures 2 and 3 (below) show the regional market split for wood coatings in 2019 covering each of the wood coatings market segments: Wood finishes and flat stock/MDF. These share estimates are based on market value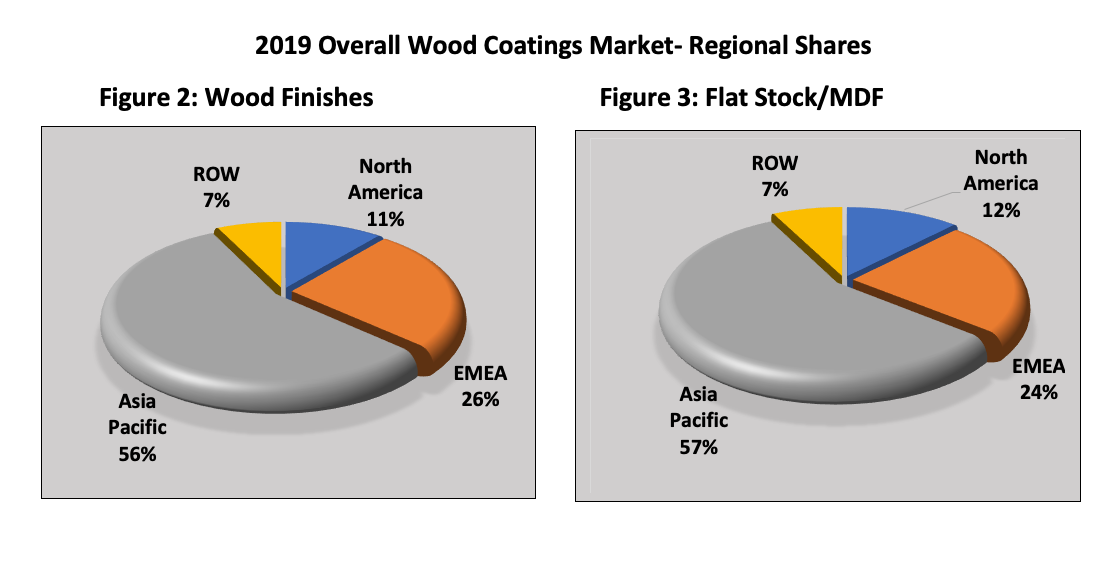 Within these two separate market segments, six (6) sub-market segments are identified in the flat stock/MDF segment and five (5) sub-segments for the wood finishes segment. The individual estimates for sub-segment shares are illustrated in Figures 4 and 5. Flooring represents the largest individual market segment for flat stock/MDF at 40% or the total market. In Wood finishes, furniture has an estimated share of 57%, by far and away the largest sub-segment.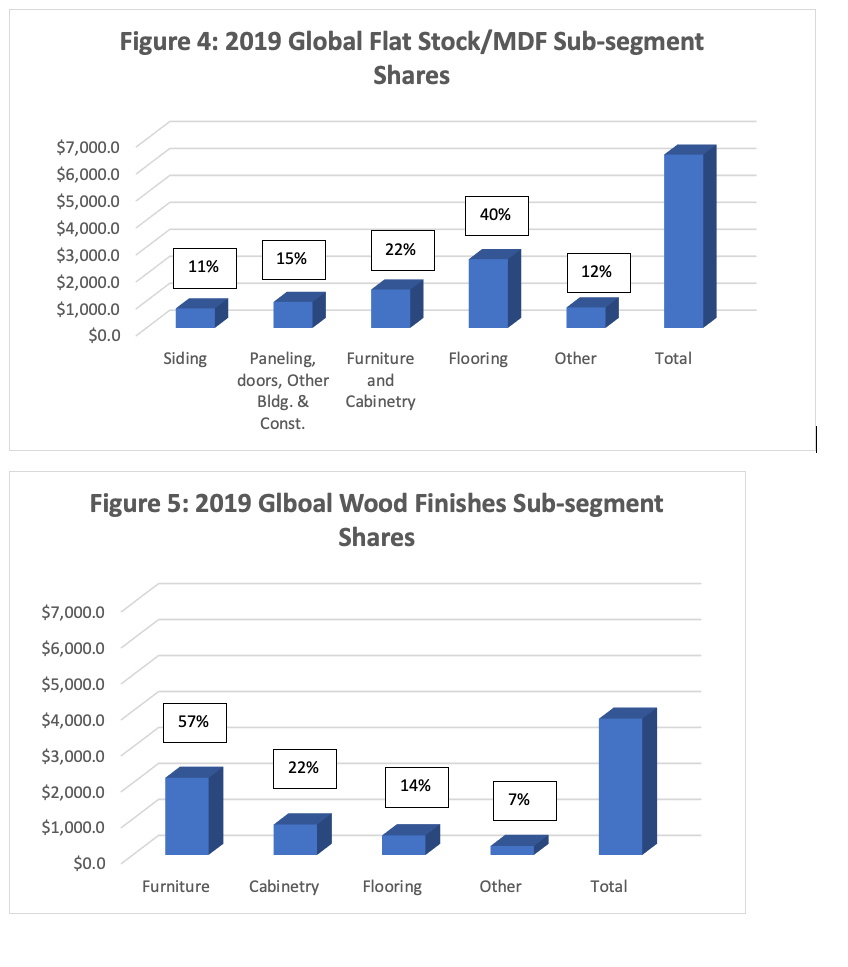 Looking closer at the European Wood Coatings Market
Coating Technologies
The "European" wood finishes market covers a number of geographic sectors all with certain areas of expertise and end-use market concentration. In addition to the major countries in Western Europe, Turkey and countries in Eastern Europe, the Baltic region, Russia and the CIS are all important participants in this market, along with many in the Middle East and Africa.
Environmental initiatives coupled with REACH compliance  issues have continued to have their impact on the coating product families/type used for coating wood. The introduction of local versions of the EU REACH regulations, the new KKDIK regulations in Turkey and proposals for an equivalent for the UK, will add further complexity to the wood coatings industry. Water-based formulations continue to gain share against solvent-based formulations and have now crept past solvent-based formulations in their overall share of the liquid portion of the coatings market.
Powder coatings have also made gains in the wood market, especially in flat stock applications on MDF. Radcure technology, mainly conventional UV and some UV-LED coatings, has continued to slowly grow its share of the European wood coatings market. E-beam, in contrast, has only establish a limited foothold in the market for wood coatings but retains a promising outlook longer-term for growth in this market sector.
Figure 6 provides the estimated shares within the EMEA region by coating type for 2019.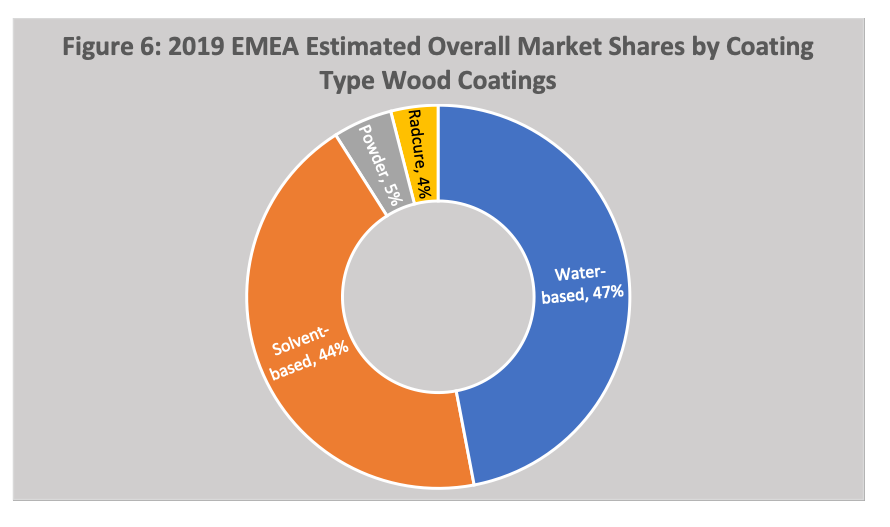 In the wood finishes (or industrial) sector, the share of UV (conventional mercury lamp) coatings has expanded to around 15% of the overall market in Europe. Water-based coatings (non-UV types) having about a 35% share of this market segment compared to around 50% for solvent-based formulations.  UV-LED is mainly used as an intermediate coating followed by a conventional UV coating as a topcoat.
Solvent-based coatings still have a reasonable market share with technologies such as acid-catalyzed lacquers, 2K polyurethane and urethane-modified alkyds. Solvent-based 2K polyurethanes are still used in Germany (mainly kitchen cabinets) and some furniture manufacturers' still use nitrocellulose coatings. Smaller furniture manufacturers in Central & Eastern Europe prefer to continue to use alkyds and nitrocellulose, the small volumes they use means that they are exempted from the EU VOC regulations. With regard to 2K versus 1K coating systems in all wood coatings applications, approximately 85% of the market is currently 1K versus 15% being 2K formulations.
 Acid catalyzed wood coatings are used on existing automated lines for finishing flat pack domestic furniture and kitchen cabinets, particularly in Scandinavia and the UK. The ovens, application and mixing areas for these automated lines are fitted with afterburners to control VOC emissions, so there is no incentive to switch to lower-VOC technologies as long as the plant continues to run efficiently. Afterburner use is slowly declining across Europe although they are expected to remain a major technology in this market for at least the next 5 years. New production lines are being designed around the use of waterborne and/or UV coatings.
In Italy, coatings used in furniture production were traditionally based on (unsaturated) polyesters and 2K polyurethanes to achieve the required high gloss finish. The use of these finishes is declining and water-based and/or UV coatings are now the most popular with over 50% of the market. Leading manufacturers such as Snaidero, a kitchen cabinet manufacturer, as well as other major Italian companies producing kitchen and residential furniture have switched to WB and UV. Although there is still a market demand for high gloss finishes in Italy, furniture manufacturers are using more coatings with a gloss of around 3-5% to give a more natural finish and 'feel' for their products, more easily achievable with water-based 2K polyurethanes.
Market Application Trends
Furniture
The Swedish furniture company IKEA leads the market for flatpack or RTA (ready-to-assemble) furniture and has a global environmental strategy around which it bases its production processes and all manufacturing sites must conform to this strategy, irrespective of location. IKEA currently has European production units in Hungary, Lithuania, Poland, Portugal, Russia, Slovakia, and Sweden. Poland is the largest production center for IKEA furniture followed by Russia, Slovakia, Portugal, and Sweden.
The largest furniture producer in Europe is Germany with 19% of European production and 5% of global output, where the production of kitchen cabinets is a key part of its output.
Italy is the second largest European furniture producer having a 15% share of the European production and 4% globally, producing mainly high-end pre-assembled furniture made from solid woods.
Poland accounts for 3% of global furniture production, both pre-assembled and flatpack, and is the third largest producer in Europe with 12% of regional production. The country has become the main producer of flatpack furniture in Europe, in addition to IKEA, there are a number of other flatpack furniture manufacturers based in this country.
The UK is the fourth largest furniture manufacturer in Europe with an 8% share, producing a cross-section of budget flatpack domestic and kitchen furniture as well as pre-assembled upholstered furniture.
Turkey has a strong tradition in furniture manufacture, but this is largely based around solid wood furniture produced by small artisanal craftsmen. The country accounts for an estimated 1% of global furniture production.
Wood flooring
The main markets for wood flooring are in Northern Europe, with ceramic tiling becoming more popular as you move south. The market for wood flooring had been growing steadily from the 1980s, but in recent years it has stagnated. The main competition for wood flooring is coming from LVT (Luxury Vinyl Tile) design flooring which is introducing a broad range of design opportunities for end-users, including timber designs in a range of colors.
The market has largely switched to water-based coatings, both 1K and 2K types. The proportion of one component is higher at 55-60%, based on PUD or PUD/acrylic blends. Intermediate coats may be based on acrylic. The method of coating can vary from country to country. 
In the UK there is still some demand for solvent-based as well as water-based coatings, and a growing use of oils.  In the Netherlands, oil treatments are commonly used on wood flooring. There have been some trials of UV-PUD based coatings for in situ wood flooring, but this is still very niche' end use as of now in Europe.
Joinery (millwork)
Wooden windows are mostly used in the cooler northern countries of Europe but have been losing market share to PVCu windows over many years in most of these countries. The growth of PVCu has slowed over the last five years, market share peaking at over 80% in the UK and 60% in Germany. Improvements in preservatives and coating processes have driven the recovery of wooden window frames. Fully finished frames form a large part of wood window sales, supported by 10-year plus warrantees. Western manufacturers in the Nordic countries, the UK, and Germany are seeing greater competition from suppliers in Poland and Slovenia and some production has been relocated to Eastern Europe.
Window frames are mainly coated with water-based primers and topcoats, normally acrylic. Interior doors use a variety of coatings systems including SB acid-catalyzed, UV and EB, and water-based. Exterior doors are still often finished with a solvent-based or water-based 2K polyurethane topcoat.