By Jim Stockhausen & Gary Shawhan, Contributing Editors,
The CHEMARK Consulting Group
Conformal coating is coating technology that has continued along a significant growth path with a track record of high profitability for the last 20+ years. This growth can be partly attributed to its adaptability to rapidly changing market requirements. In many respects conformal coatings can be considered "niche" technology.
As a general description, these coatings "conform" to the topography of a component or a circuit to protect it from the environment and insure reliable performance over time. Among these environmental challenges are humidity/condensation, temperature cycling, harsh chemicals, vibration, and other contaminants.
As shown in Figure 1, the 2019 global market for conformal coatings is estimated at $1.2 billion.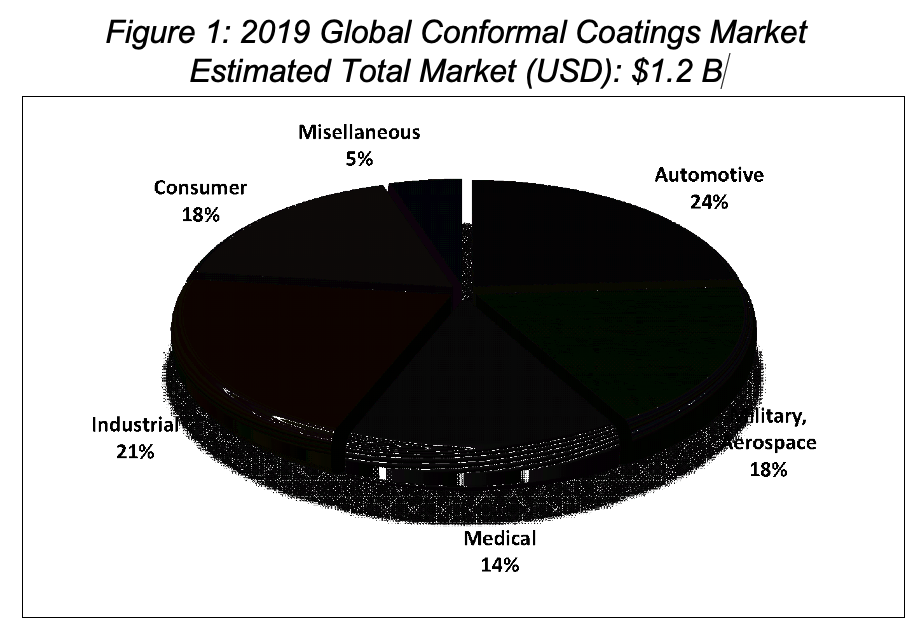 The North American share of the global market is estimated to be 27%. The worldwide growth rate for conformal coatings is 6%+. While growth in Asia Pacific continues to outpace the rest of the world, "off-shoring" has stabilized for several market segments and North America has shown steady growth over the past decade.  
Automotive electronics is of particular importance as the value attributable to electronics in relation to the overall cost per vehicle continues to climb. In 2020 it is estimated that approximately 35% of the overall cost per car was assignable to electronics.
Table 3 provides a basic chronology of the evolution of conformal coatings from its inception in the early 1960's to today.
Market Transitions creating Profitable Growth
Market transitions that produce new benchmarks of performance represent excellent opportunities for growth and share gain for suppliers able to respond to the needs created by change. As illustrated in Figure 2, there are three elements that together are important components for providing favorable market conditions for suppliers. Conformal coatings represent a coating technology for which each of these elements exists and collectively has resulted in a pattern of sustained growth.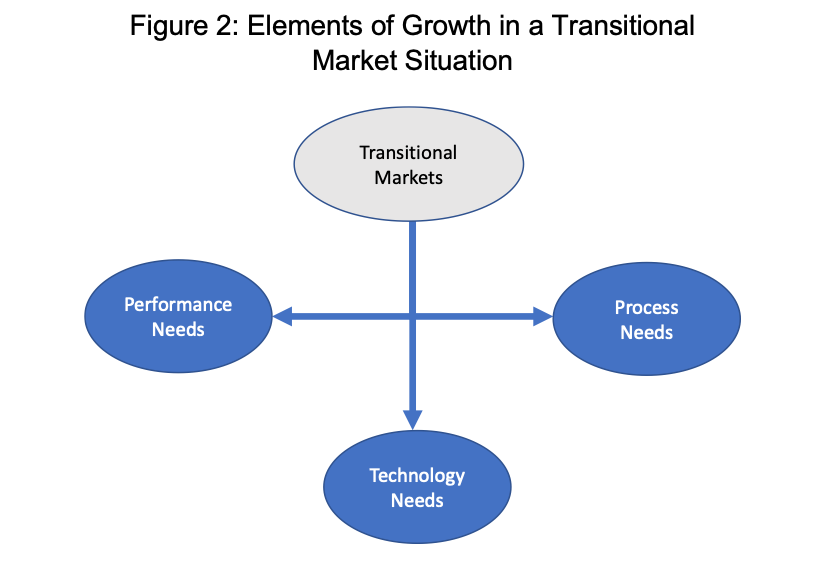 Performance Needs
The electronics industry has seen incredible change and growth in the past twenty years. This trend has been driven by a various of transitional elements in the design of circuitry and electronic components including those items listed in Table 1.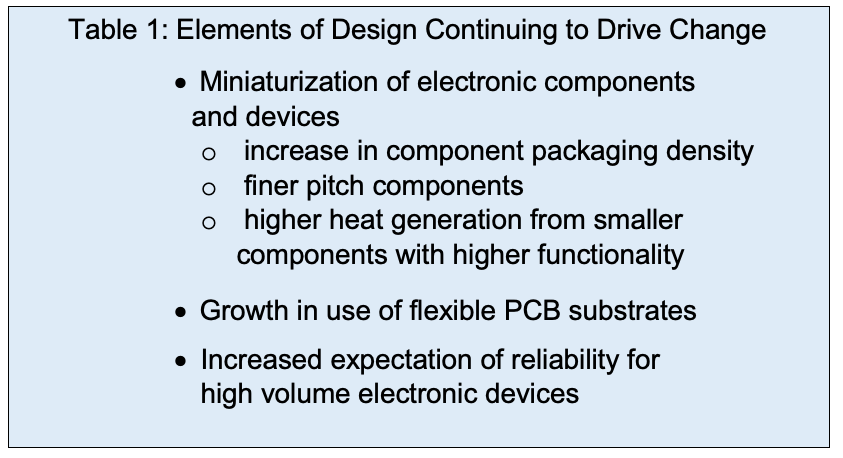 The evolution of smart phones and a significant growth in the field of consumer electronics in general has created the need for improved protection of the circuitry used in these products. One example is the need to make devices water resistant. The burgeoning use of sensors integrated into a variety of industrial, automotive, and consumer electronic products, is amazing. This trend has significantly expanded the type and the form-factor of products where protection of components and circuits is needed to insure product reliability and/or safer operation.
For automotive, the introduction and expanding use of autonomous vehicles has brought new challenges for coatings to protect circuit boards and electronic components. Beyond operational safety, the liabilities associated with next generation vehicles require a focus on long-term reliability and performance. 
Technology Needs
The trends in the electronics market today, which continue to present challenges for conformal coatings to meet the requirements of the industry going forward, include:
Higher operating temperatures
Significantly better heat dissipation
Adhesion to new PCB and component substrate materials
Flexible/stretchable coatings
Maintain/improve dielectric properties
New product development efforts, focused on the need to address the above trends and performance challenges, include coatings that are softer and more flexible or stretchable. This need is driven by the continued miniaturization and packing density of components creating challenges in accommodating complex geometries and special product design issues.
Thermal management has been and will continue to present a challenge for next generation conformal coatings. With increased functionality requiring more power often in a smaller space, tolerance to heat as well as its dissipation are critical requirements.
Dielectric properties and the ability to isolate element of a circuit or a component from potential shorts during operation is another key function of conformal coatings. The need for thinner coatings driven by complex geometries with smaller and smaller spacing between circuit elements creates this need.
As markets (employing conformal coatings) push the envelope of performance, the "performance gap" for coatings continues to demand innovation through new chemistries. Table 2 provides a summary of the some of the avenues being pursued for next generation product development.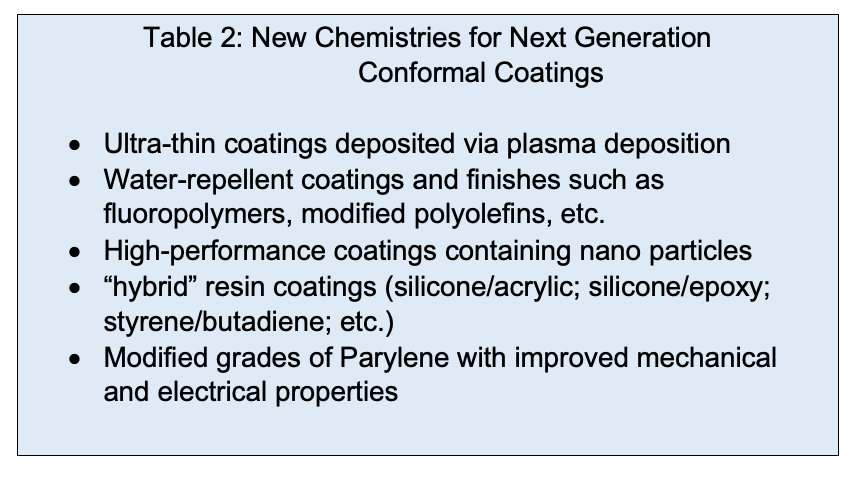 Ultra-thin coatings, frequently linked to the curing mechanism and application process, are a fundamental property needed for current and next generation applications. Among the technologies being worked on to address this need include plasma deposited coatings.
 Hydrophobic fluoropolymers, modified polyolefins and other chemistries that are moisture or water repellent bring value to all the market segments where conformal coatings are used- not just in hi-reliability applications but for consumer electronics as well.
Hybrid resins including silicone/acrylics, silicone/epoxies, styrene butadiene elastomers, etc. allow formulators to customize products to specific applications and process requirements. In additional, the role of nano technology is a very active element in new product design as it fits with the general need for ultra-thin coatings.
Process Needs
From the perspective of process, coating suppliers are revisiting the high reliability coatings used in early aerospace applications. Parylene (para xylene) coatings are ultra-thin coatings that deliver an excellent set of performance properties and (from the beginning) set a high standard of performance for conformal coatings. These properties include: Hydrophobicity; Excellent chemical resistance; Good barrier properties; Good dielectric properties; and "pin hole" free coatings as need for "hi-rel" applications. The traditional problem with Parylene coatings is that the process was batch, involved very high set-up costs, and not suited for automation as required for much of today's electronics.
Coatings suppliers are now revisiting this high reliability coating technology as well as other chemistries to improve the methods of product delivery and their adaptability to automation. This includes the need to advance in-line manufacturing methods for conformal coating to make them compatible with individual market and product application requirements. It also is in recognition that cost is a key requirement for all volume market applications.
Coating suppliers are working with suppliers of dispensing equipment to improve the cost and convenience of using these coatings on a larger scale. For example, both PVA and Nordson Asymtek have recently introduced new two-component dispensing equipment. These developments have enabled coating suppliers to revisit two-component urethane and silicone resin chemistries in an effort to further improve conformal coating performance.
The Market Landscape
The conformal coatings market is populated with a number of the larger coating manufacturers that supply a variety of products used in electronic assembly operations. These products can include encapsulants, potting compounds, adhesives, thermal management materials and conductive inks or pastes.
There are also a number of smaller, specialty companies active in this field that are focused on bringing novel, next generation conformal coating products to market. These companies are nimble and positioned to bring creativity to both the materials science and the manufacturing processes need to advance the state-of-the-art for conformal coatings.
In general, conformal coating is a market which will continue on a path of profitable growth. The benchmarks for performance continue to push the envelope requiring further improvements in coating properties, methods of coating application and in manufacturing processes.  The objective of these combined elements is to deliver a consistent, high quality coating at a low per unit cost. The strength of the value-proposition in this market space is such that it will continue to support smaller companies that are focused on bringing innovation and creativity forward.